2016 Capiaux Estate Carménère
Carménère is thought to have first been planted by the Romans in Bordeaux and is the result of crossing Cabernet Franc with Gros Cabernet grape varietal.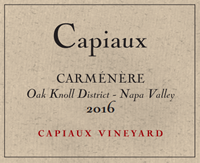 The name Carménère comes from the French word for crimson, Carménère tends to be rich bodied with smokey, spicy and earthy aromas. Medium tannin, the aging potential is similar to Cabernet Sauvignon. I planted it in my back yard, a little over an acre about 10 years ago. Enjoy this rare varietal wine and with your friends as it will spark conversation. This is my second vintage.
In the glass, you will see a super dark opaque center with a red hue. Aromas of roasted coffee, caramel and deep tar. Reminiscent of a Cabernet Sauvignon but a bit more earthy and with well-integrated berry flavors. A rich, viscous, syrup-like mouthfeel that spreads nicely across your palate, without sweetness, of course.
Appellation: 100% Oak Knoll, Napa
Vineyard: Capiaux Family Estate
Harvest Date: October 1
Bottling Date: August 2018
Release Date: April 2020
Aging: French oak, 50% new
Months Aging: 22
Brix @ Harvest: 25
pH: 3.83
TA (g/1): 5.7
Alcohol: 14.5
Production: 23 cases