Capiaux Wine Club
In 2016 we introduced the Capiaux Wine Club. Membership guarantees your supply of our limited release pinot noir, and offers shipping-included pricing.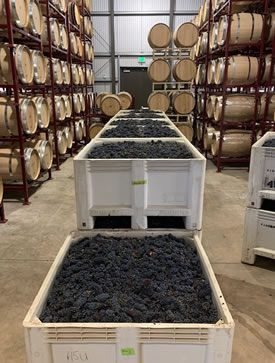 Local club deliveries and pick-ups remain complimentary. Other benefits include reduced-price tastings for you and a guest, by appointment, at the winery and access to limited local and on-the-road events when I travel.
There are three levels of membership:
Classic club offers two annual shipments containing 1 bottle each of 3 different pinot noir wines released in the Spring and 3 different single vineyard pinot noir wines in the Fall. Collector club includes 2 bottles each of 3 different pinot noir wines for a total of 6 in each Spring and Fall release. Connoisseur club features a full assorted case each shipment containing 4 bottles each of the 3 wines released in Spring and in Fall.
If you would like to top off your shipment or if you are interested in library wines, please contact the winery at info@capiauxcellars.com. This will allow us to adjust automated shipping charges.
As new vineyard sources emerge, I'll let you know of changes in my portfolio. As always, I'm thankful for your interest in my wines and want to hear from you.
---