The key to wine quality is superior grapes; therefore Capiaux Cellars only produces wines from judiciously selected vineyards. All the vineyards that we purchase grapes from are contracted on a "by-the-acre" rather than a "per-ton" basis. We pay a set fee for the acreage guarantying the grower cash for his crop regardless of the tonnage. This allows us to prune, shoot-thin and drop crop as we see fit.

Garys' Vineyard
(1.45 acres contracted)
Following in the success of its parent vineyard, Pisoni, located just eight miles North in the Santa Lucia Highlands this vineyard is a partnership between Gary Pisoni, of Pisoni Vineyard, and Gary Franscioni. The bud wood for Garys' vineyard came from the Pisoni vineyard, which came from a very famous vineyard in Burgundy. This is a younger vineyard that continues to improve with age.
Pisoni Vineyard
(1.14 acres contracted; Camper section own rooted)
An instant success, this vineyard in the Santa Lucia Highlands just south of Salinas is producing some amazing wines from an array of top Pinot Noir producers. The bud wood for the Pisoni vineyard came from a very famous vineyard in Burgundy. This vineyard is coming into its prime with age and is producing dark expansive wines with firm structure meant for aging.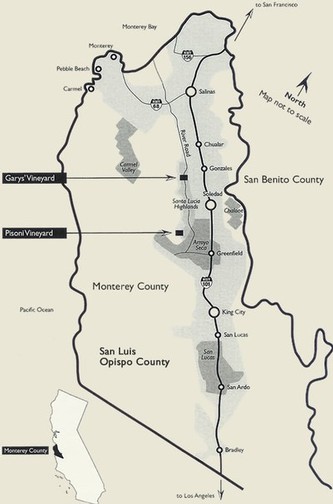 Widdoes Vineyard
(1.86 acres contracted)
The Dutton Ranch's™ Widdoes vineyard is located between the towns of Graton and Occidental in the Russian River Valley appellation. The cool temperate growing conditions allow the grapes from this 37 year-old, vertical trained, dry farmed vineyard to ripen slowly and evenly. At this vineyard the Beringer clone Pinot Noir is planted which consistently produces a wine of finesse and balance.
Starscape Vineyard
(Block 2 or West Block (old vines) Swan Clone and Block 4 OVM Clone)
This vineyard is located in the unofficial sub-region known as Middle Reach bordering Mark West Creek. The West Block was planted in 1971 and is one of the oldest known plantings of Pinot Noir in the Russian River Valley. Yields are less than one ton per acre.